History of Our Church
In 1877, John Lane, who was a conductor on the T&C Railroad was appointed as superintendent and a new switching station was built in his honor. It was named Lane Switch Station and the area surrounding it became known as the Lane Switch Community. In 1883 the people of the community founded the first religious mission and named it Lane Switch Mission and Lane Switch Road is still here today.
In 1886 the first Brashers Chapel Church was built in honor of the Brasher family who moved here as "Circuit Riders" with the Methodist Church and served at the Lane Switch Mission. Circuit Riders were clergy that traveled throughout the harsh countryside doing God's work and ministering to people in rural areas. Brashers had 46 people at the time.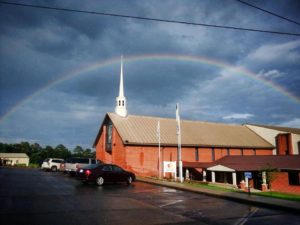 Brashers Chapel First Congregational Methodist Church was rebuilt in 1938 and later bricked. The church that stands today was built in 1983, and 11 more acres were purchased in 1985 for future expansion. In 1988 the first full time pastor was elected, and in 1990 the new fellowship hall, Sunday School rooms, and gym were added. In 2003 the church changed it's denomination to Congregational Methodist and a world of new doors are opening for the church. In 2005 the church hired it's first full time Youth Minister and had a membership total of 473.
The future of Brashers Chapel is looking brighter everyday because of the strong bond of faith that the church members have. We are excited about the future and look forward to the journey God will lead us on.